This article applies only to Backup4all. If you don't have it yet, you must download it first.
DOWNLOAD BACKUP4ALL
We strive to keep our articles as accurate as possible. If you notice any inconsistencies or outdated info please let us know.
How to download, install and use backup plugins
This article will show you how to download, install and use the backup plugins in Backup4all.
On this page:
Download and install plugins
For Backup4all 5:
Go to File -> Tools -> Plugins.
Press "Download plugin list" button from the top of the window.
Select the plugin you want to install and press "Install".
For Backup4all 4:
Click on Download Now for the plugin that you're interested in installing. After the download is finished, follow these steps to install it in Backup4all:
Open Backup4all and from the top menu select Tools -> Plugins.
Press Add button
Browse to the location where the plugin was saved, select it and press Open.The backup plugin will be added to the plugins list and you can use it in Backup4all from now on.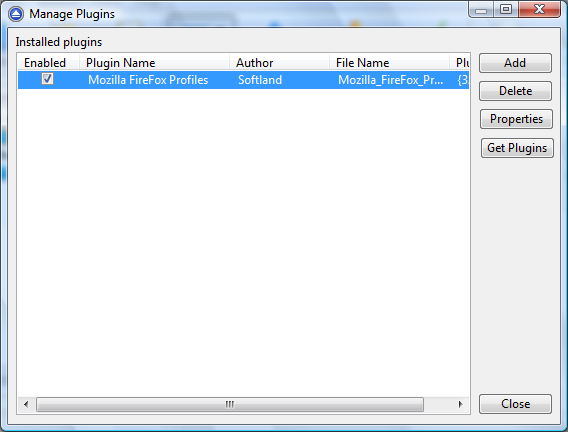 Create a backup job using a backup plugin
After the plugin is installed, in Backup4all in the Predefined Backup drop-down list the newly installed plugin will show up.
Follow these steps to create a new backup job based on this plugin:
Open Backup4all, go to menu and select File -> New Backup (Ctrl+N).
On the first page enter a name for the backup in the Name field.
Select a destination for the backup and press Next.
From the Selection of files and folders drop-down list, select the newly installed plugin. If you just installed the plugin, it might be at the end of the list.
You will see a list of the items to be backed up. You can clear (un-check) the items that you do not want to back up. Press Next.
On the next page, select the backup type: full, differential, incremental or mirror. Press Next.
Use this page if you want to schedule the backup job, otherwise press Save to exit the wizard. On the last backup of the wizard, you can indicate when do you want to backup. Select how often, in what day and what hour you want Backup4all to automatically start the backup job.
Click Save, then Save and run.
Note:
You cannot add or remove source files and folders from a backup job created with a backup plugin. With all these, you can uncheck the files and folders you don't want to back up.
For more advanced options in wizard, press the Advanced mode button.
You can contact us to ask for new backup plugins. We are happy to make the backups much easier for all users.
For Backup4all 5:
For Backup4all 4: