You can select a CD, DVD or Blu-ray drive as destination for backup.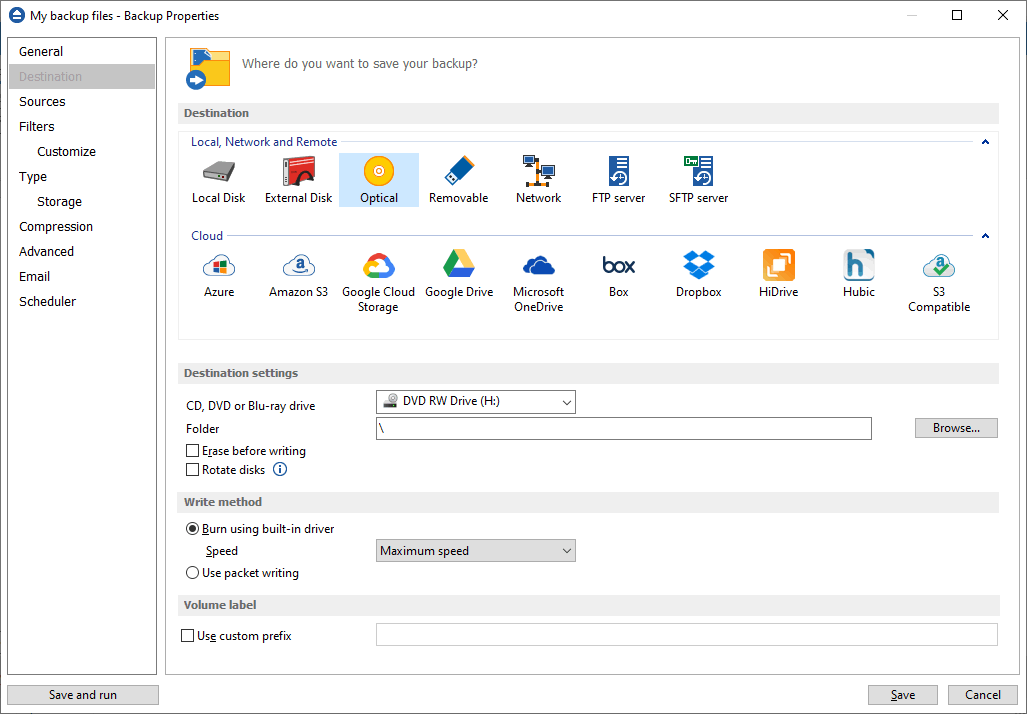 If the Smart backup type is selected, you cannot use CD, DVD or Blu-ray as backup destination. In this case, you have to select another backup type.
Destination settings
From the "CD, DVD or Blu-ray drive" drop down list you can select the optical drive you want to use.
You can type a folder name in the Folder field or you can click the Browse button to choose another folder where the backup will be stored.
In destination folder field, you can use Environment Variables as %Computername%, %SystemDrive%, %UserName% etc.
Erase before writing
When this option is checked, the rewritable CD, DVD or Blu-ray disc is erased before burning the backup files. By default this option is not checked.
Rotate disks
Select this option if you want to set up a rotation scheme. Selecting this option will disable the "Use local catalog" option from Backup Properties->Advanced page.
Write method
Burn using built-in driver
Backup4all has built-in burning capabilities. Depending on the option selected in CD, DVD or Blu-ray (from Tools->Options->Backup), one of the internal burners will be used to write the CD, DVD or Blu-ray disc. This option is checked by default.
Speed
Use this option to specify a different speed for burning the CD, DVD or Blu-ray disc. By default this option is set to Maximum speed.
Use third-party packet writing software
UDF is a platform-independent file system; the same media can be written and read by any operating system or vendor. Each CD, DVD or Blu-ray disc must be UDF formatted before burning otherwise the backup will fail. The limitation of this type is that you must have an UDF reader installed on each computer you wish to use the CD, DVD or Blu-ray disc.
Volume label
Use custom prefix
You can type your own volume label prefix to customize the backups.