This is the fist page of the Scheduler Properties window which appears when you click on the Add or Edit button in the Scheduler window of Backup Properties or in the global Scheduler page of the application. This allows you to add or edit a scheduled task for the current backup job.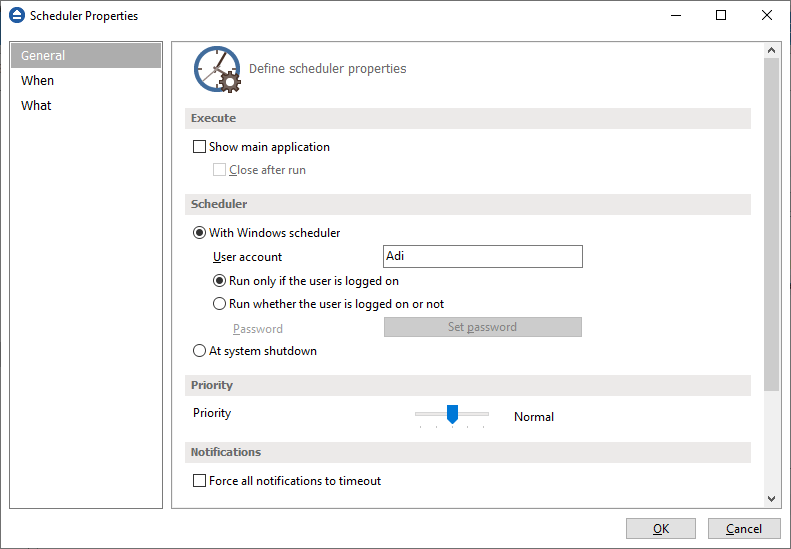 Execute
Show main application
Use this option if you want the main application window to be shown when the scheduled task is executed. By default, this option is unchecked and the scheduled tasks will run in background.
Close after run
If this option is checked, Backup4all will be closed after the task is executed. This option applies only if the application was started by the current scheduled task.
Scheduler
We use only the Windows scheduler (no more built-in scheduler), which can be set up with or without a password, depending if you want the task to run when no user is logged on or only when there is an user logged on.
With Windows scheduler
Run only if the user is logged on - the task will run under the specified user account only if there is an user logged on
Run whether the user is logged on or not - the task will run even if there is no user logged on
Password - press this button to set the Windows login password for the above specified user account
At system shutdown - If this is selected, the task will be executed when the shutdown command is started. Backup4all intercepts the shutdown message and there is no way to know if a restart or a shutdown was requested. This is why it will always shutdown your computer after the task is executed.
Priority
Indicates the task priority. Move the cursor to right or left in order to increase or decrease the priority.
Notifications
Force all notifications to timeout - use this option to force all notifications to timeout. This option is useful to continue the overnight backups when there is a message waiting for user input. That message will be closed and the backup will continue.