This article applies only to Backup4all. If you don't have it yet, you must download it first.
Download now
Buy licenses
We strive to keep our articles as accurate as possible. If you notice any inconsistencies or outdated info please let us know.
This article shows you how to manage the backup tags. The backup tags are useful to better organize and manage the backup jobs in Backup4all.
On this page:
---
Create a new backup tag
When creating (or editing) a backup job using the Advanced mode (or Backup Properties), type a new name (that does not exist) for the backup tag. The new tag will be created when the wizard is finished.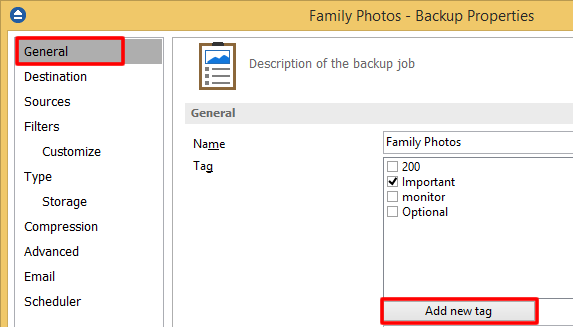 Right click on backup list (left panel of the main window) and choose "New Tag". The "Create a new tag" window will appear and you can enter the name of the tag. A new empty tag will be created (which can be selected later from the tags list in Backup Properties -> General page).

Rename a backup tag
Right-click the backup tag from the left side list and select "Rename Tag". A window similar with the one for "Create a new tag" will appear. You can enter the new name and press OK. The tag will be renamed and it will remain assigned to backup jobs as it was before.
Delete a backup tag
Right-click the backup tag from the left side list and select "Delete Tag". A warning message will appear before the deletion. If you choose Yes, the backup tag will be deleted. To assign a different tag for a backup job, you must edit the backup job's properties, uncheck the current tag and select a different tag for it.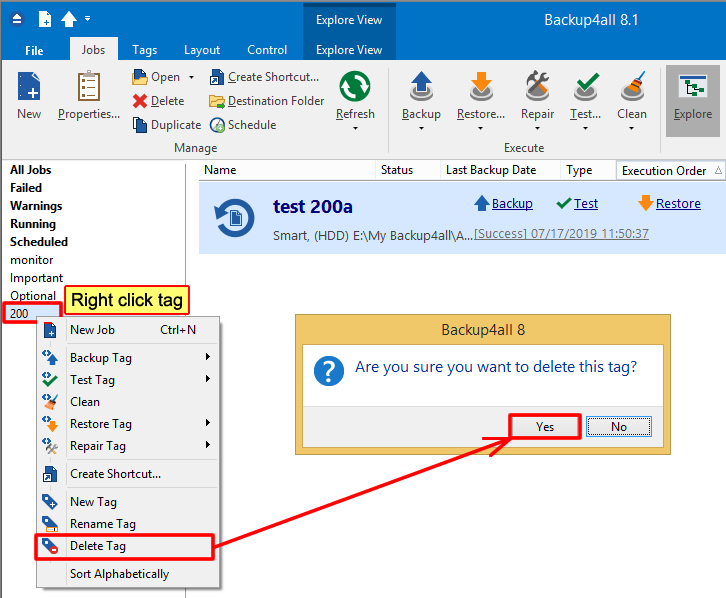 Please note:
A backup job can have multiple tags assigned
The backup jobs are not deleted when you delete a backup tag