You can select an external hard drive as destination for backup.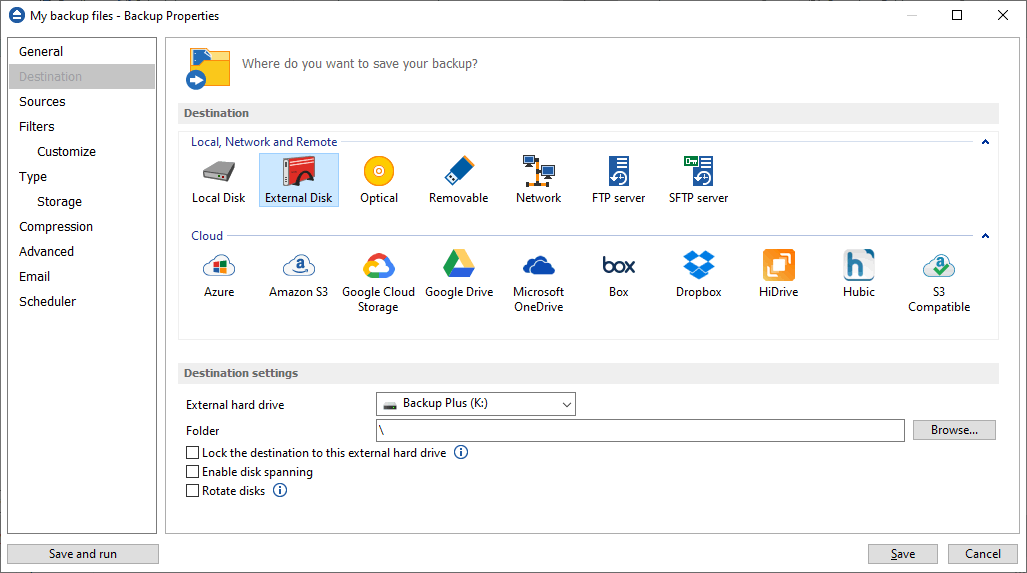 Destination settings
From the External hard drive list, you can select either an USB or a Firewire external hard drive.
You can type a folder name in the Folder field or you can click the Browse button to choose another folder where the backup will be stored.
In destination folder field, you can use Environment Variables as %Computername%, %SystemDrive%, %UserName% etc.
Lock the destination to this external hard drive
When disconnecting and reconnecting an external drive, your computer may not assign it the same drive letter. If the drive letter was changed, the backup might fail because Backup4all is trying to backup to the same old drive letter which probably does not exist.
Use this option if you want Backup4all to detect the external drive after its own serial number and automatically change the backup destination according with the new drive letter.
You should not check this option if you use a rotation backup scheme with two or more external hard drives.
By default, this option is not checked.
Enable disk spanning
The option is effective when there is not enough space to copy all files in the external drive destination. If checked, the application will copy files to the destination until a file will not fit. Then it will ask you for another drive to continue with the rest of the files. If the option is not set, Backup4all will stop when the destination drive is full.
By default, this option is not checked.
Rotate disks
Select this option if you want to set up a rotation scheme. Selecting this option will disable the "Use local catalog" option from Backup Properties->Advanced page.