Online Activation requires a working internet connection to activate the program. However if your computer is not connected to the internet, you can still activate Backup4all manually. You can use manual activation in the rare case when the automatic activation fails due to firewall issues or internet connection.
The manual activation process involves two computers: computer A, where Backup4all is installed, and computer B, the one that has internet access. Follow the steps below to copy the activation file from computer A to computer B from where you can obtain the activation response:
1. Open Backup4all (on computer A). The Activate application window will appear. If you previously used the trial, you need to open the activation window from File->Licensing, by pressing the "Enter product key" button.

Press "Enter key" button. Copy paste or type the key, then press Activate.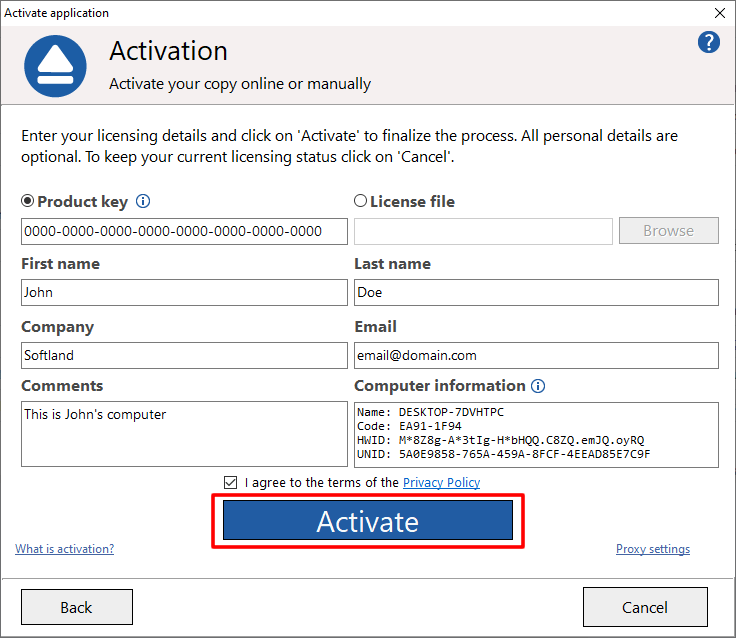 If the internet connection cannot be established, a popup message will appear asking you to retry online activation (you can configure a proxy server and try again). If you use an older version of Windows, you can select the " Enable less secure online connection (using HTTP in case HTTPS fails)" option, then try again to activate online. Selecting this option allows you to activate Backup4all over HTTP if your OS does not recognize newer TLS or SSL protocols.
If your computer is not connected to internet, p ress Activate offline button. In the email received after you purchased Backup4all, there is also a license.lic file attached. Download that license file and load it in the bellow step:
On the second step of the manual activation, you have two options:
Email activation request. Using this option, the default email client will open to send the activation request. After sending the activation request email, in a short moment you will get an email containing the activation file. Please load that file on the next page in order to activate the application.
Save activation request. Using this option, you will be asked to indicate the location where the activation request file will be saved. Take that file and go to Computer B where you have internet access. Load the file on activate.backup4all.com and press Activate. You will then have the option to download the activation response file.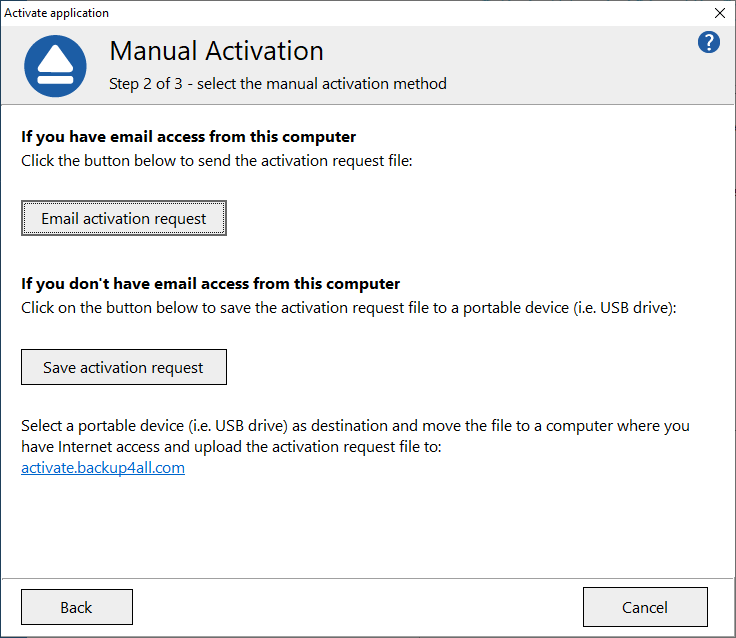 In both cases you will get a activation response file that you need to load on the 3rd page of that activation wizard, then press Activate.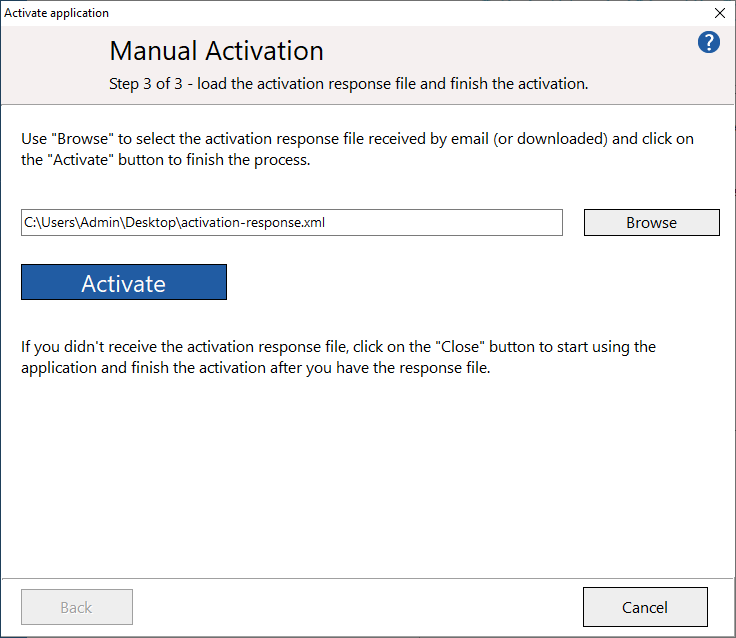 A message appears that the application was activated without errors. After finishing the activation wizard, Backup4all will be restarted to apply the changes. Please note the manual activation has to be repeated every 3 months in order to keep the backup application activated and working.