You can choose to save your backup to a shared network drive (another computer or NAS).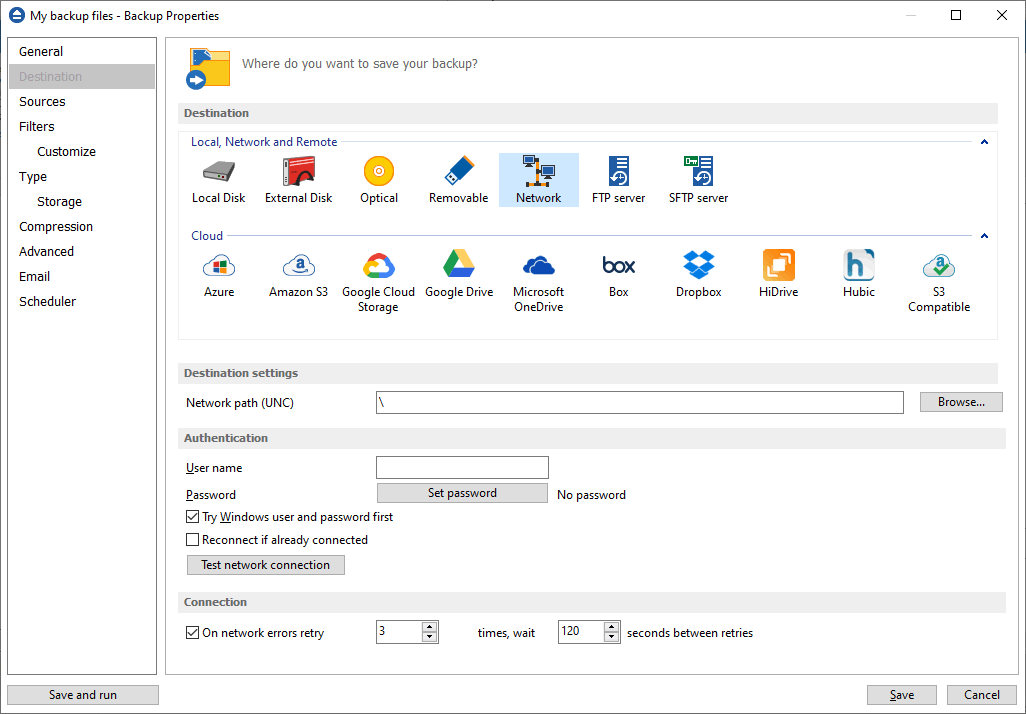 Destination settings
Click the Browse button to open My Network Places and select a destination where the backup will be stored.
You can also enter network paths in the Network path (UNC) field. Only a full path is allowed. For example, suppose \\Backup_Server\PC1 is mapped on your workstation as drive X, then the following paths are both valid and indicate the same folder: \\Backup_Server\PC1\Backup or X:\Backup.
Authentication
Make sure you can write in the destination and in the selected folder (you have the proper rights and the media is not write-protected) before finishing the backup configuration. You can enter an User name and Password to access the network destination if it requires authentication. If you are logged in as an user that has rights to write to the specified network destination, you can check the Try Windows user and password first option. What this option does is that it checks on the network destination if the logged in user has rights to access it.
You can set Backup4all to disconnect and reconnect the network drive if already connected by checking the Reconnect if already connected option. By default, this option is not checked.
After entering the path and eventually the username/password, use the Test network connection button to see if the destination is reachable and that you have sufficient rights to access it. The network connection was tested successfully pop-up message means that the network destination was accessible. In case of insufficient rights the following error message will appear: Network connection error. Access is denied. In this case you have to either make sure that the entered username/password values are correct, or contact the network administrator to obtain the necessary rights.
Connection
One network errors retry - here you can set the number of retries and the wait time (in seconds) between retries.
If the destination is missing (when the network is disconnected), an error message is shown.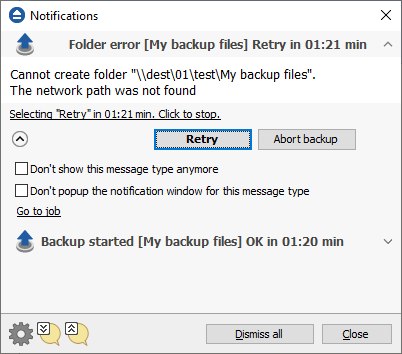 The user can choose Cancel to stop the backup process or Retry to check the network connection again. If the scheduler starts the backup then the system will retry as many times as set in the File->Options->Backup window and if still is not possible to access the network destination, it will abort the backup process.