You can backup your data from external drives using Backup4all. If you have multiple computers in your network and want to back up all of them from the server, you can set up the backup using Backup4all. Network administrators can install Backup4all on a single computer using a single registration key. All workstations can be backed up from there.
Here is a case study that applies to this scenario
Multiple Sources - One Destination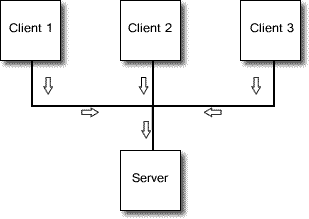 Network backup destination will be on one computer, while the sources are located on several computers in the same network environment.
One example for this situation is companies with local area networks. There is a central server where all the other computers store the backed up data. Network administrators can install Backup4all only on the server to ease the process of administration and management. Backup4all can be scheduled to backup the data from the other computers in the network and at the end of each backup job it can be configured to send an email with the network backup log results.
Backup4all is suitable as a server backup software and even as an enterprise-level backup software. Please note you cannot back up open files over the network. That feature works only for sources from a local drive.
To configure the backup, you need to follow these steps:
Open Backup4all and select File -> New (Ctrl+N).
In the Where do you want to save the backup? section, select a backup destination.
On the What do you want to backup page, add the network sources. Press Next.
On the Filter the backup sources page, you can set filters for backup sources. Then press Next.
On the How do you want to backup page, you can choose the backup type and the encryption.
On the When do you want to backup page, you can set the backup job to automatically run on the specified time and days. Press Next.
On the Personalize your backup job page, enter a name for the backup in the Backup name field.
Press Save and run.